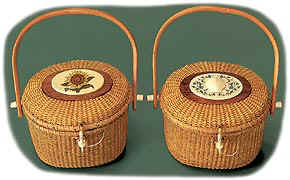 Handbags are the traditional oval design.
Nantucket Lightship Baskets are a long-time favorite with Nantucket women. Now features several hand-painted images. Calico lining, leather hinge and closure loop; has a full three-year guarantee.
Dimensions: 9" x 6.5" x 7.5"
Order your Nantucket Basket by clicking on the order button next to the image you want on your Nantucket Lightship Basket.